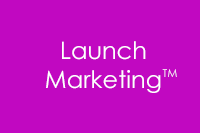 In this competitive environment, you can't afford to leave anything to chance.  You have to work hard, and smart, to let the world know about your offerings and how they can be used to solve real business problems.
The LaunchMarketing™ service helps you put the right building blocks in place, so your target market can start finding out about you.

---
Content Generation
Content generation is one of the most important building blocks within your marketing strategy.  Without good, thoughtful content, it would be hard for you to build credibility, and entice your target market to come back time and time again.
We have the expertise and resources to help you create engaging videos, insightful surveys, appealing infographics and informative newsletters, so you can continuously provide fresh and interesting content for your prospects and customers.
Thought Leadership
A recent survey conducted by Yahoo Research indicated that 0.05% of the Twitter users generated 50% of all tweets consumed. People are sophisticated in the way they consume content these days, and are looking for truly high-quality, idea-focused content.
To be a thought leader within your industry, you will need to be entrenched in your space, and consistently provide thought-provoking whitepapers and blog posts.  To do so, we can help you conduct deep research in order to continuously keep you in tune with your industry, and establish that thought leadership position.
Content Marketing
With the right content in place, the next step is to identify the right channels to promote the content and begin the relationship-building process.  We will help you strategize and leverage the benefits from social media sites, media, email marketing and other online channels.  We can guide you to effectively distribute your content and generate leads.
We have a prescribed methodology in place to help you consistently reach out to your target market.  We are very particular about providing them with relevant and insightful content, as we want to help you nurture the relationships so they become lasting customers.
Event Marketing
Webinars, physical and virtual trade shows, and special events are additional ways for you to reach your target audience.  The right event, the right location, and the right outreach message can mean the difference between connecting with an interested prospect or missing the opportunity altogether.
We want to help you create the buzz, increase your brand's awareness, and provide the experiential engagement that your customers will appreciate for a long time.